Description
This four star hotel is perfectly located within the Linen Quarter of Belfast city centre, ideal for visiting the Titanic Exhibition, a night out in Cathedral Quarter or shopping in Victoria Square.
Hotel facilities at a glance:
170 Guest Rooms & Suites, Exclusive Executive Floor, Accessible Bedrooms, Leisure Centre, Swimming Pool & Spa, Dedicated Conference Centre, 9 Flexible Meeting Rooms, Conference Facilities for up to 600, Complimentary WiFi, Ground Floor Ballroom and Restaurant and Bar.
The Clayton Hotel is right in the centre of the action near many local attractions such as the SSE Arena, ICC Belfast, Victoria Square and Ulster Museum. The hotel is just a 10 minute taxi ride to the George Best Belfast City Airport.
A four star contemporary hotel in the heart of the city just a few minute's walk to pretty much anywhere in the city centre, entertainment, shopping, bars and restaurants, City Hall yet located in a surprisingly quiet area. The Clayton Hotel combines an excellent range of facilities for business and leisure travellers.
Their accommodation comprises 170 fully air-conditioned rooms including 10 accessible rooms (5 with roll-in showers). All bedrooms have super fast high speed Wi Fi internet access and large HD TVs, super comfy beds and the odd designer touch.
Did you know that the Clayton Hotel are the only hotel in Belfast city centre that offers a swimming pool? So why not come and enjoy yourself at their Leisure centre and spa, where you can work out in the gym, swim some lengths in the large indoor heated swimming pool and treat yourself to some pampering by our Spa and Beauty Therapists.
Their restaurant, lounge and bar offer tempting dishes including local specialities, unbelievably good steaks and a full Irish breakfast. They are family friendly, with early restaurant opening times, kid's packs, plenty of toys and staff who love to laugh and joke. Plenty of family rooms as well as interconnecting rooms if you're looking for a little escape but not too much!
Quite simply we offer the widest range of facilities of any hotel in Belfast all wrapped up in great value and a very friendly and genuine Northern Ireland welcome.
Note:  Some of the images below showcase The Clayton Hotel's conference room refurbishments which will be fully completed by July 2019.
| Location | Distance from Clayton Hotel Belfast |
| --- | --- |
| Belfast International Airport | 0 |
| George Best Belfast City Airport | 0 |
| City Centre (Belfast City Hall) | 0 |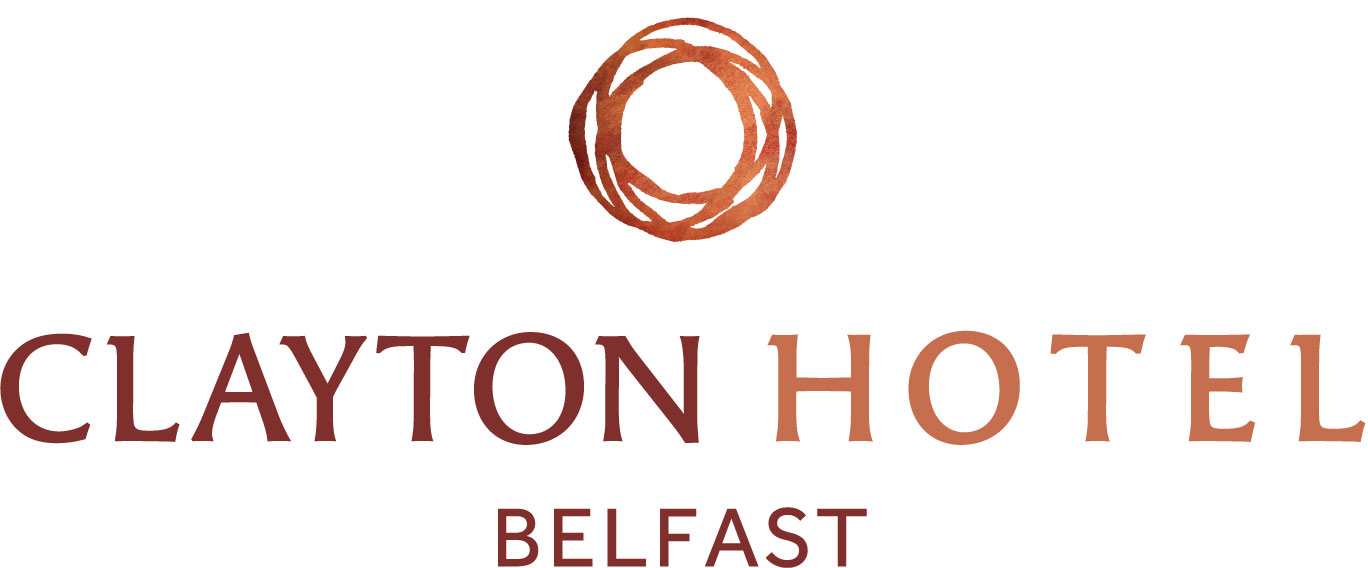 Key Facts
Delegate Capacity: 650
Max. Exhibition Area (m2): 372
Syndicate Rooms: 9
Bedrooms: 170
22 Ormeau Avenue
Belfast
Antrim
BT2 8HS
Olympic 1
| Layout | Capacity |
| --- | --- |
| Banquet | 96 |
| Boardroom | 46 |
| Classroom | 52 |
| Reception | 100 |
| Theatre style | 140 |
Canberra
| Layout | Capacity |
| --- | --- |
| Banquet | 12 |
| Boardroom | 18 |
| Classroom | 10 |
| Reception | 20 |
| Theatre style | 30 |
Southern Cross
| Layout | Capacity |
| --- | --- |
| Banquet | 12 |
| Boardroom | 18 |
| Classroom | 10 |
| Reception | 20 |
| Theatre style | 30 |
Venetian
| Layout | Capacity |
| --- | --- |
| Banquet | 36 |
| Boardroom | 28 |
| Classroom | 30 |
| Reception | 30 |
| Theatre style | 54 |
Titanic 1
| Layout | Capacity |
| --- | --- |
| Banquet | 48 |
| Boardroom | 36 |
| Classroom | 30 |
| Reception | 50 |
| Theatre style | 70 |
Olympic 2
| Layout | Capacity |
| --- | --- |
| Banquet | 144 |
| Boardroom | 58 |
| Classroom | 88 |
| Reception | 200 |
| Theatre style | 200 |
Olympic 3
| Layout | Capacity |
| --- | --- |
| Banquet | 144 |
| Boardroom | 58 |
| Classroom | 88 |
| Reception | 80 |
| Theatre style | 200 |
Pretoria Castle
| Layout | Capacity |
| --- | --- |
| Banquet | 36 |
| Boardroom | 28 |
| Classroom | 30 |
| Reception | 30 |
| Theatre style | 54 |
Oceanic
| Layout | Capacity |
| --- | --- |
| Banquet | 36 |
| Boardroom | 28 |
| Classroom | 30 |
| Reception | 30 |
| Theatre style | 54 |
Titanic Suite
| Layout | Capacity |
| --- | --- |
| Banquet | 96 |
| Classroom | 58 |
| Reception | 150 |
| Theatre style | 120 |
Sicilian
| Layout | Capacity |
| --- | --- |
| Banquet | 12 |
| Boardroom | 18 |
| Classroom | 10 |
| Reception | 10 |
| Theatre style | 35 |
Syrian
| Layout | Capacity |
| --- | --- |
| Banquet | 36 |
| Boardroom | 28 |
| Classroom | 30 |
| Reception | 30 |
| Theatre style | 54 |
Titanic 2
| Layout | Capacity |
| --- | --- |
| Banquet | 48 |
| Boardroom | 36 |
| Classroom | 30 |
| Reception | 50 |
| Theatre style | 70 |
Olympic Suite
| Layout | Capacity |
| --- | --- |
| Banquet | 324 |
| Classroom | 218 |
| Reception | 600 |
| Theatre style | 650 |