Description
Situated in the leafy suburbs of Belfast, overlooking the landscaped gardens of Stormont Parliament Buildings and Estate, the Stormont Hotel is only 3 miles from Belfast City Centre.
Stormont Hotel is Northern Ireland's Premier Meeting Conference and Event Hotel. Offering guests various dining, entertainment and flexible meeting spaces on-site.
The spacious grounds and ample car parking also make it one of Northern Ireland's first choices for conference and exhibition business.
Somewhat typically, this move proved hugely successful. After several major renovations and extensions, the hotel now boasts 106 luxurious bedrooms, 14 private conference and banqueting suites, a fitness room and choice of two restaurants.
Getting here:
George Best Belfast City Airport is only 3 miles away, and Belfast International Airport is 40 minutes by car (20 miles).

Stena Line operates regular ferry services to Scotland from Belfast Port which is 10 minutes from the Hotel.
Translink provides a regular local service to all parts of the Belfast area.
Central Station is a 10 minute drive, and trains run regularly between Dublin and Belfast.
| Location | Distance from Hastings Stormont Hotel |
| --- | --- |
| Belfast International Airport | 0 |
| George Best Belfast City Airport | 0 |
| City Centre (Belfast City Hall) | 0 |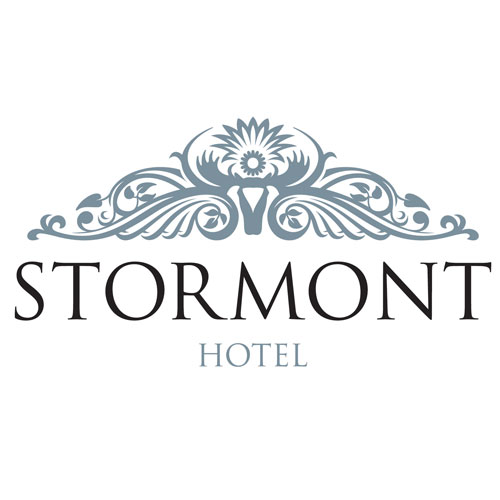 Key Facts
Delegate Capacity: 500
Max. Exhibition Area (m2): 440
Syndicate Rooms: 14
Parking Spaces: 200
Bedrooms: 106
587 Upper Newtonards Road
Belfast
Antrim
BT4 3LP
Stormont Ballroom
| Layout | Capacity |
| --- | --- |
| Banquet | 360 |
| Boardroom | 100 |
| Cabaret | 240 |
| Classroom | 160 |
| Exhibition x sq m | 440 |
| Exhibition x stands | 40 |
| Reception | 500 |
| Theatre style | 500 |
Dunmisk Suite
| Layout | Capacity |
| --- | --- |
| Banquet | 96 |
| Boardroom | 40 |
| Cabaret | 64 |
| Classroom | 40 |
| Exhibition x sq m | 140 |
| Exhibition x stands | 20 |
| Reception | 100 |
| Theatre style | 120 |
Barnett Suite
| Layout | Capacity |
| --- | --- |
| Banquet | 72 |
| Boardroom | 40 |
| Cabaret | 48 |
| Classroom | 35 |
| Exhibition x sq m | 110 |
| Exhibition x stands | 15 |
| Reception | 80 |
| Theatre style | 80 |
Thornhill Suite
| Layout | Capacity |
| --- | --- |
| Banquet | 36 |
| Boardroom | 20 |
| Cabaret | 32 |
| Classroom | 24 |
| Exhibition x sq m | 55 |
| Exhibition x stands | 8 |
| Reception | 40 |
| Theatre style | 45 |
Senate Chamber
| Layout | Capacity |
| --- | --- |
| Banquet | 36 |
| Boardroom | 20 |
| Cabaret | 32 |
| Classroom | 24 |
| Exhibition x sq m | 55 |
| Exhibition x stands | 8 |
| Reception | 40 |
| Theatre style | 45 |
Confex Suite 2
| Layout | Capacity |
| --- | --- |
| Boardroom | 20 |
| Cabaret | 20 |
| Classroom | 20 |
| Exhibition x sq m | 35 |
| Exhibition x stands | 4 |
| Theatre style | 30 |
Confex Suite 3
| Layout | Capacity |
| --- | --- |
| Boardroom | 20 |
| Cabaret | 20 |
| Classroom | 20 |
| Exhibition x sq m | 35 |
| Exhibition x stands | 4 |
| Theatre style | 30 |
Confex Suite 4
| Layout | Capacity |
| --- | --- |
| Boardroom | 20 |
| Cabaret | 20 |
| Classroom | 20 |
| Exhibition x sq m | 35 |
| Exhibition x stands | 4 |
| Theatre style | 30 |
Confex Suite 5
| Layout | Capacity |
| --- | --- |
| Boardroom | 20 |
| Cabaret | 20 |
| Classroom | 20 |
| Exhibition x sq m | 35 |
| Exhibition x sq m | 4 |
| Theatre style | 30 |
Confex Suite 6
| Layout | Capacity |
| --- | --- |
| Boardroom | 20 |
| Cabaret | 20 |
| Classroom | 20 |
| Exhibition x sq m | 35 |
| Exhibition x sq m | 4 |
| Theatre style | 30 |
Confex Suite 7
| Layout | Capacity |
| --- | --- |
| Boardroom | 20 |
| Cabaret | 20 |
| Classroom | 20 |
| Exhibition x sq m | 35 |
| Exhibition x stands | 4 |
| Theatre style | 30 |
Confex Suite 8
| Layout | Capacity |
| --- | --- |
| Boardroom | 20 |
| Cabaret | 20 |
| Classroom | 20 |
| Exhibition x sq m | 35 |
| Exhibition x stands | 4 |
| Theatre style | 30 |
Confex Suite 9
| Layout | Capacity |
| --- | --- |
| Boardroom | 20 |
| Cabaret | 20 |
| Classroom | 20 |
| Exhibition x sq m | 35 |
| Exhibition x stands | 4 |
| Theatre style | 30 |
Confex Suite 10
| Layout | Capacity |
| --- | --- |
| Boardroom | 20 |
| Cabaret | 20 |
| Classroom | 20 |
| Exhibition x sq m | 35 |
| Exhibition x stands | 4 |
| Theatre style | 30 |
Double Confex Suite 2&3
| Layout | Capacity |
| --- | --- |
| Boardroom | 40 |
| Cabaret | 40 |
| Classroom | 40 |
| Exhibition x sq m | 70 |
| Horseshoe of chairs | 10 |
| Theatre style | 80 |
Double Confex Suite 4&5
| Layout | Capacity |
| --- | --- |
| Boardroom | 40 |
| Cabaret | 40 |
| Classroom | 40 |
| Exhibition x sq m | 70 |
| Exhibition x stands | 10 |
| Theatre style | 80 |
Double Confex Suite 7&8
| Layout | Capacity |
| --- | --- |
| Boardroom | 40 |
| Cabaret | 40 |
| Classroom | 40 |
| Exhibition x sq m | 70 |
| Exhibition x stands | 10 |
| Theatre style | 80 |
Double Confex Suite 9&10
| Layout | Capacity |
| --- | --- |
| Boardroom | 40 |
| Cabaret | 40 |
| Classroom | 40 |
| Exhibition x sq m | 70 |
| Exhibition x stands | 10 |
| Theatre style | 80 |