Description
ICC Belfast is Northern Ireland's only purpose-built international convention centre with over 20 years' experience in delivering premier events for local, national and international clients.
No matter what type of event you are organising: conference, awards ceremony, exhibition or sales kick off, ICC Belfast offers everything you need and more to make your event the best yet.
ICC Belfast
Situated at the heart of one of Europe's most accessible, vibrant and flourishing cities, ICC Belfast boasts stunning views of the River Lagan and easy access to transport links, hotels, restaurants and attractions.
A 10-minute drive from George Best Belfast City Airport and a 25-minute drive from Belfast International Airport ensure delegates arrive at ICC Belfast stress-free and can make the most of their time in the city.
Miss Gemma Humm BSc (Hons) MBChB MRCS AFHEAm, Immediate Past President, Association of Surgeons in Training
I would like to thank the team for the exceptional support that we received at the ICC Belfast. Everything down to the very last detail was considered and executed beautifully. It the whole event so much easier for me and the team, as nothing was too much trouble for yours.
Tailored to meet your needs
The newly extended 7,000m² facility features 44 stylish spaces that can accommodate up to 5,000 delegates at any one time:
Over 2,500m² of flexible event space in Halls 1 & 2
2,200-seat Main Auditorium
660m² Riverside Foyer
380-seat studio
20 meeting rooms for 10 to 100 delegates
2 exterior terraces with spectacular riverside views
Equipped to the highest specification, each space can be shaped to suit your unique requirements.
A £29.5m extension to ICC Belfast was unveiled in 2016, which significantly expanded the venue's capabilities.  Among other spaces, ICC Belfast now boasts a 520m² Main Auditorium that seats 2,200 people, two exhibition halls that can be dynamically tailored to suit specific event requirements, a 510m² Studio theatre plus a plethora of meeting and board rooms as well as three bar and restaurant areas ensuring that plenary and breakout sessions alike can be comfortably held.
Why ICC Belfast?
ICC Belfast boasts exclusive infrastructure, state of the art technology and an experienced and ambitious multi-disciplinary team who will work with you at every touchpoint to lay the foundations for an event that is guaranteed to exceed expectations.
Hosting your event in Belfast means you not only experience the passion and warmth of the ICC Belfast team, but of the entire city for who your event delivers socially, culturally and economically. Today, tomorrow and beyond.
Kellie While, Head of 7digital Creative
It was the best event outside London that we've done. The way everyone bought into it wholeheartedly, it was off the scale to what we've done in any region before.
ICC Belfast has a world-class reputation and works proudly with partners throughout the City of Belfast to deliver event experiences like no other. Over the past two decades the venue has hosted some of the city's highest profile events including presidential visits by Barack Obama and Bill Clinton, the Royal College of Nursing Congress 2018 and the BBC Radio 2 Folk Awards.
For conference enquiries please email iccinfo@iccbelfast.com
| Location | Distance from ICC Belfast |
| --- | --- |
| Belfast International Airport | 0 |
| George Best Belfast City Airport | 0 |
| City Centre (Belfast City Hall) | 0 |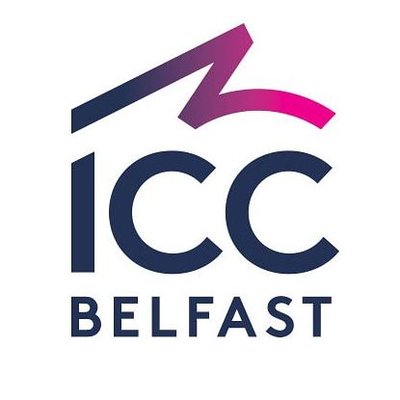 Key Facts
Delegate Capacity: 5000
Max. Exhibition Area (m2): 5000
Syndicate Rooms: 37
2 Lanyon Place
Belfast
Antrim
BT1 3WH
Main Auditorium
| Layout | Capacity |
| --- | --- |
| Banquet | 450 |
| Boardroom | 120 |
| Cabaret | 300 |
| Exhibition x sq m | 520 |
| Theatre style | 2200 |
Hall 1
| Layout | Capacity |
| --- | --- |
| Banquet | 1000 |
| Classroom | 1000 |
| Exhibition x sq m | 805 |
| Theatre style | 2000 |
Hall 1A
| Layout | Capacity |
| --- | --- |
| Banquet | 480 |
| Boardroom | 60 |
| Classroom | 430 |
| Exhibition x sq m | 687 |
| Theatre style | 800 |
Hall 1B
| Layout | Capacity |
| --- | --- |
| Banquet | 270 |
| Boardroom | 60 |
| Classroom | 240 |
| Exhibition x sq m | 392 |
| Theatre style | 450 |
Hall 1C
| Layout | Capacity |
| --- | --- |
| Banquet | 170 |
| Boardroom | 40 |
| Classroom | 100 |
| Exhibition x sq m | 279 |
| Theatre style | 200 |
Hall 1D
| Layout | Capacity |
| --- | --- |
| Banquet | 270 |
| Boardroom | 60 |
| Classroom | 240 |
| Exhibition x sq m | 394 |
| Theatre style | 450 |
Hall 1AB
| Layout | Capacity |
| --- | --- |
| Banquet | 750 |
| Boardroom | 60 |
| Classroom | 670 |
| Exhibition x sq m | 1079 |
| Theatre style | 1025 |
Hall 1ABC
| Layout | Capacity |
| --- | --- |
| Banquet | 920 |
| Boardroom | 100 |
| Classroom | 770 |
| Exhibition x sq m | 1358 |
| Theatre style | 1450 |
Hall 1BC
| Layout | Capacity |
| --- | --- |
| Banquet | 440 |
| Boardroom | 100 |
| Classroom | 340 |
| Exhibition x sq m | 671 |
| Theatre style | 650 |
Hall 1CD
| Layout | Capacity |
| --- | --- |
| Banquet | 440 |
| Boardroom | 100 |
| Classroom | 340 |
| Exhibition x sq m | 673 |
| Theatre style | 650 |
Hall 1BCD
| Layout | Capacity |
| --- | --- |
| Banquet | 710 |
| Boardroom | 160 |
| Classroom | 580 |
| Exhibition x sq m | 1065 |
| Theatre style | 1100 |
Hall 2
| Layout | Capacity |
| --- | --- |
| Banquet | 450 |
| Classroom | 430 |
| Exhibition x sq m | 702 |
| Theatre style | 700 |
Hall 2A
| Layout | Capacity |
| --- | --- |
| Banquet | 300 |
| Classroom | 270 |
| Exhibition x sq m | 439 |
| Theatre style | 400 |
Hall 2B
| Layout | Capacity |
| --- | --- |
| Banquet | 150 |
| Boardroom | 50 |
| Classroom | 160 |
| Exhibition x sq m | 262 |
| Theatre style | 300 |
Studio
| Layout | Capacity |
| --- | --- |
| Banquet | 250 |
| Boardroom | 80 |
| Classroom | 90 |
| Exhibition x sq m | 510 |
| Theatre style | 380 |
Meeting Room 1A
| Layout | Capacity |
| --- | --- |
| Banquet | 50 |
| Boardroom | 25 |
| Classroom | 60 |
| Exhibition x sq m | 77 |
| Theatre style | 90 |
Meeting Room 1B
| Layout | Capacity |
| --- | --- |
| Banquet | 50 |
| Boardroom | 25 |
| Classroom | 60 |
| Exhibition x sq m | 77 |
| Theatre style | 90 |
Meeting Room 2A
| Layout | Capacity |
| --- | --- |
| Banquet | 50 |
| Boardroom | 25 |
| Classroom | 60 |
| Exhibition x sq m | 77 |
| Theatre style | 90 |
Meeting Room 2B
| Layout | Capacity |
| --- | --- |
| Banquet | 50 |
| Boardroom | 25 |
| Classroom | 60 |
| Exhibition x sq m | 77 |
| Theatre style | 90 |
Meeting Room 3A
| Layout | Capacity |
| --- | --- |
| Banquet | 50 |
| Boardroom | 25 |
| Classroom | 60 |
| Exhibition x sq m | 77 |
| Theatre style | 90 |
Meeting Room 3B
| Layout | Capacity |
| --- | --- |
| Banquet | 80 |
| Boardroom | 40 |
| Classroom | 80 |
| Exhibition x sq m | 105 |
| Theatre style | 130 |
Boardroom 1
| Layout | Capacity |
| --- | --- |
| Boardroom | 26 |
| Classroom | 12 |
| Exhibition x sq m | 35 |
| Theatre style | 25 |
Boardroom 2
| Layout | Capacity |
| --- | --- |
| Boardroom | 14 |
| Classroom | 12 |
| Exhibition x sq m | 38 |
| Theatre style | 25 |
Boardroom 3
| Layout | Capacity |
| --- | --- |
| Boardroom | 18 |
| Classroom | 16 |
| Exhibition x sq m | 30 |
| Theatre style | 20 |
Bar 1
| Layout | Capacity |
| --- | --- |
| Banquet | 200 |
| Classroom | 100 |
| Exhibition x sq m | 311 |
| Theatre style | 150 |
Bar 2
| Layout | Capacity |
| --- | --- |
| Banquet | 250 |
| Classroom | 150 |
| Exhibition x sq m | 306 |
| Theatre style | 200 |
Gallery 1
| Layout | Capacity |
| --- | --- |
| Banquet | 180 |
| Exhibition x sq m | 211 |
Gallery 2
| Layout | Capacity |
| --- | --- |
| Exhibition x sq m | 240 |
Riverside Foyer
| Layout | Capacity |
| --- | --- |
| Exhibition x sq m | 660 |
Concourse
| Layout | Capacity |
| --- | --- |
| Exhibition x sq m | 300 |
Arc
| Layout | Capacity |
| --- | --- |
| Banquet | 180 |
| Exhibition x sq m | 305 |
Organisers Office
| Layout | Capacity |
| --- | --- |
| Boardroom | 16 |
| Classroom | 12 |
| Exhibition x sq m | 54 |
Organisers Space (Level 3)
| Layout | Capacity |
| --- | --- |
| Boardroom | 4 |
| Exhibition x sq m | 11 |
Conductor
| Layout | Capacity |
| --- | --- |
| Banquet | 10 |
| Boardroom | 10 |
| Classroom | 12 |
| Exhibition x sq m | 18 |
| Theatre style | 18 |
Soloist
| Layout | Capacity |
| --- | --- |
| Banquet | 10 |
| Boardroom | 10 |
| Classroom | 12 |
| Exhibition x sq m | 18 |
| Theatre style | 18 |
Harland
| Layout | Capacity |
| --- | --- |
| Banquet | 10 |
| Boardroom | 10 |
| Classroom | 12 |
| Exhibition x sq m | 18 |
| Theatre style | 18 |
Pirrie
| Layout | Capacity |
| --- | --- |
| Banquet | 20 |
| Boardroom | 16 |
| Classroom | 16 |
| Exhibition x sq m | 30 |
| Theatre style | 28 |
Andrews
| Layout | Capacity |
| --- | --- |
| Banquet | 10 |
| Boardroom | 12 |
| Classroom | 12 |
| Exhibition x sq m | 18 |
| Theatre style | 16 |
Ritchie
| Layout | Capacity |
| --- | --- |
| Banquet | 10 |
| Boardroom | 12 |
| Classroom | 12 |
| Exhibition x sq m | 18 |
| Theatre style | 16 |
Lagan
| Layout | Capacity |
| --- | --- |
| Banquet | 40 |
| Boardroom | 26 |
| Classroom | 30 |
| Exhibition x sq m | 79 |
| Theatre style | 65 |
Blackstaff
| Layout | Capacity |
| --- | --- |
| Banquet | 20 |
| Boardroom | 12 |
| Classroom | 12 |
| Exhibition x sq m | 35 |
| Theatre style | 25 |
Farset
| Layout | Capacity |
| --- | --- |
| Banquet | 10 |
| Boardroom | 12 |
| Classroom | 16 |
| Exhibition x sq m | 24 |
| Theatre style | 20 |
Olympic
| Layout | Capacity |
| --- | --- |
| Banquet | 10 |
| Boardroom | 12 |
| Classroom | 16 |
| Exhibition x sq m | 28 |
| Theatre style | 20 |
Titanic
| Layout | Capacity |
| --- | --- |
| Banquet | 20 |
| Boardroom | 16 |
| Classroom | 16 |
| Exhibition x sq m | 41 |
| Theatre style | 30 |