Description
An award-winning venue in the heart of the city, with a range of unique spaces for hire.
The MAC aims to create something unique, different and more memorable for your business. Offering a range of spaces from a 12 delegate boardroom to the theatre space for 350 delegates, the perfect home for every style of event you can imagine.
At the MAC you will have a dedicated events co-ordinator who will guide you through everything you need to know alongside the Operations team who will be able to deliver to the most exacting of standards.
In the heart of the city with the vibrant Cathedral Quarter just out the door, the MAC is centrally located with excellent public transport links.
| Location | Distance from MAC |
| --- | --- |
| Belfast International Airport | 0 |
| George Best Belfast City Airport | 0 |
| City Centre (Belfast City Hall) | 0 |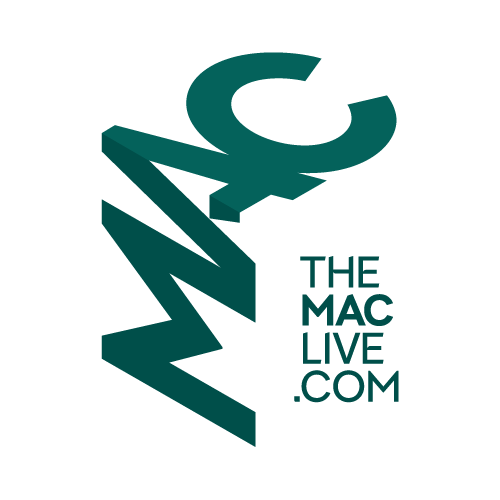 Key Facts
Delegate Capacity: 350
Syndicate Rooms: 8
10 Exchange Street West
Belfast
Antrim
BT1 2NJ
The Factory
| Layout | Capacity |
| --- | --- |
| Banquet | 92 |
| Cabaret | 100 |
| Theatre style | 100 |
The Lab
| Layout | Capacity |
| --- | --- |
| Banquet | 60 |
| Cabaret | 60 |
| Theatre style | 60 |
The Den
| Layout | Capacity |
| --- | --- |
| Boardroom | 12 |
| Theatre style | 20 |
The Boardroom
| Layout | Capacity |
| --- | --- |
| Boardroom | 12 |
The Works
| Layout | Capacity |
| --- | --- |
| Boardroom | 20 |
| Cabaret | 48 |
| Theatre style | 60 |
The Hub
| Layout | Capacity |
| --- | --- |
| Cabaret | 34 |
| Classroom | 24 |
| Theatre style | 35 |
Upstairs Theatre
| Layout | Capacity |
| --- | --- |
| Banquet | 80 |
| Theatre style | 120 |
Downstairs Theatre
| Layout | Capacity |
| --- | --- |
| Banquet | 140 |
| Cabaret | 100 |
| Theatre style | 350 |