Description
Titanic Belfast, located at the heart of Belfast's Titanic Quarter and birthplace to the world's most famous liner.
Offering a portfolio of world class conference, banqueting and event facilities in an array of architecturally distinct indoor and outdoor spaces.
From intimate event spaces on board the world's last remaining White Star liner to world class business, conference and gala dinner facilities in Belfast's most iconic venue, an authentic 1900's public house setting inspired by one of the city's first shipbuilders or a unique outdoor space for large scale events at a signature heritage location, our portfolio of world class venues offers something for every event organiser!
The Titanic Suites
Located on the top floors of Titanic Belfast with stunning views of the Slipways and Belfast Lough, where the world-famous liner was designed, built and launched, the Titanic Suites offer clients enormous flexibility. With capacity for intimate dinner parties of 20 to largescale receptions for 1,500 – the possibilities for your conference, banquet, exhibition or reception are endless!
The opulent decor in the Titanic Suites is themed on the interiors of Titanic and features a stunning replica of the liner's famous Grand Staircase. White Star Line crockery and a host of sumptuous menus all created with the finest local produce, guarantees all the ingredients to make your Titanic Belfast experience truly memorable.
Hickson's Point
Located on the plaza outside Titanic Belfast, Hickson's Point is an intimate event space perfect for incentive programmes, product launches and a real taste of the shipyard.
Building on the unique heritage of the Titanic Quarter and inspired by one of the first ship builders in the city, Hickson's Point offers event organisers an authentic 1900's public house setting featuring carved-mahogany booths, stained and etched glass, authentic tiling, cosy snugs and bench style seating.
Treat your guests to an unforgettable experience with storytelling, traditional music and tasty heritage food inspired by Belfast's most traditional tipples and treats.
Titanic Slipways & Paddock
Steeped in history, the Slipways and Paddock are the perfect location for an iconic event backdrop in Belfast.
As the spot where the legendary RMS Titanic was built and launched, the Slipways have been the venue of choice for many global events including the World Police and Fire Games, Giro d'Italia Big Start, Carl Frampton's World Title Fight and BBC Music's The Biggest Weekend, along with a host of festivals and cultural events.
With the famous Harland & Wolff Drawing Offices and the landmark Samson and Goliath Cranes as a backdrop, the Slipways bring together Belfast's strong industrial and maritime history and Northern Ireland's resurgent future to create a unique outdoor venue space.
| Location | Distance from Titanic Belfast |
| --- | --- |
| Belfast International Airport | 0 |
| George Best Belfast City Airport | 0 |
| City Centre (Belfast City Hall) | 0 |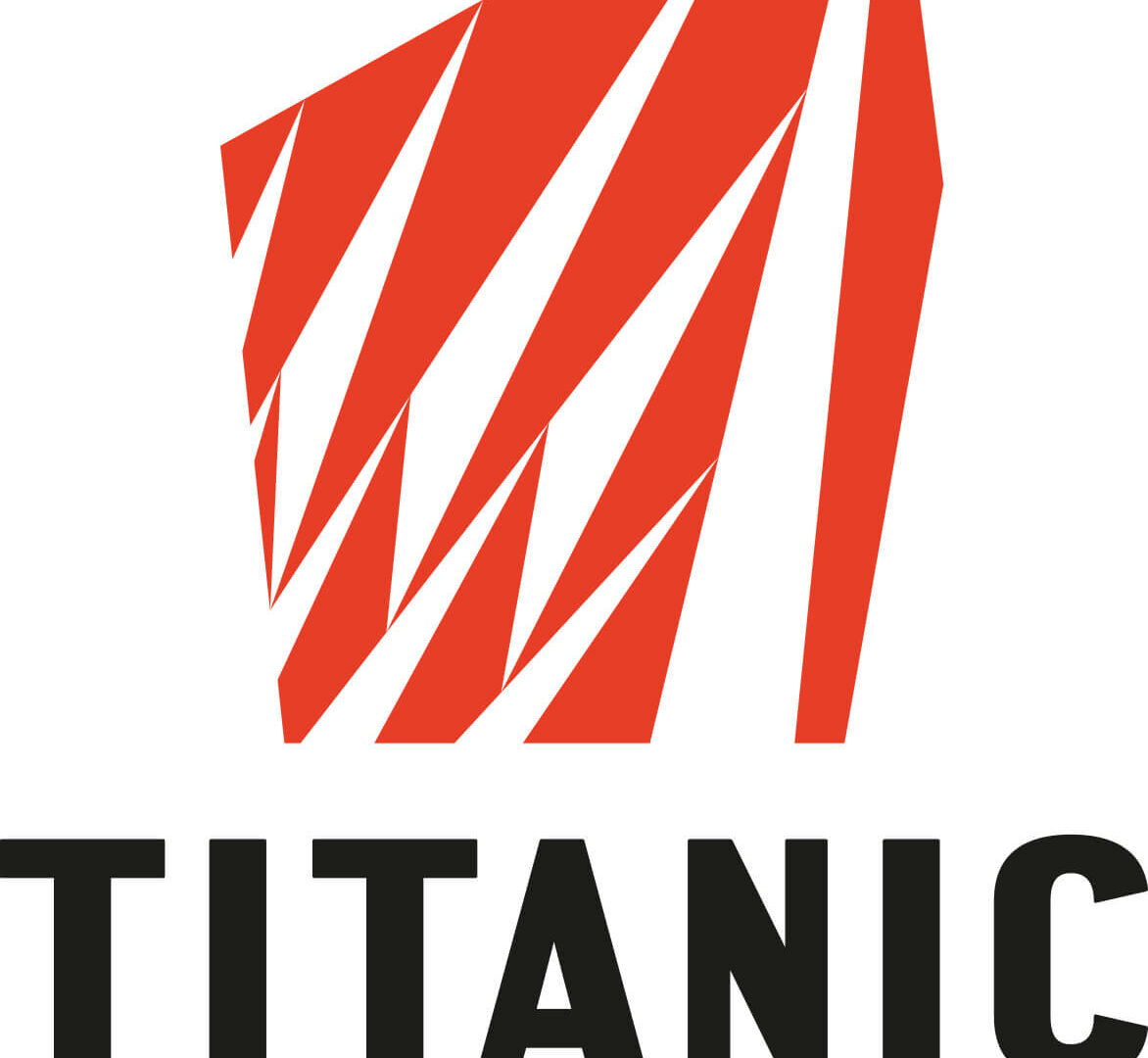 Key Facts
Delegate Capacity: 630
Max. Exhibition Area (m2): 35000
Syndicate Rooms: 5
Parking Spaces: 800
Titanic Belfast
1 Olympic Way, Queen's Road
Belfast
Antrim
BT3 9EP
Britiannic Suite
| Layout | Capacity |
| --- | --- |
| Banquet | 100 |
| Cabaret | 80 |
| Classroom | 50 |
| Exhibition x sq m | 179 |
| Reception | 200 |
| Theatre style | 166 |
Andrews Gallery
| Layout | Capacity |
| --- | --- |
| Banquet | 220 |
| Cabaret | 176 |
| Classroom | 100 |
| Exhibition x sq m | 445 |
| Reception | 350 |
| Theatre style | 200 |
The Bridge
| Layout | Capacity |
| --- | --- |
| Banquet | 144 |
| Cabaret | 80 |
| Classroom | 40 |
| Exhibition x sq m | 293 |
| Reception | 200 |
| Theatre style | 120 |
Olympic Suite
| Layout | Capacity |
| --- | --- |
| Banquet | 160 |
| Cabaret | 112 |
| Classroom | 84 |
| Exhibition x sq m | 250 |
| Reception | 250 |
| Theatre style | 200 |
Titanic Suite
| Layout | Capacity |
| --- | --- |
| Banquet | 580 |
| Cabaret | 400 |
| Classroom | 300 |
| Exhibition x sq m | 689 |
| Reception | 800 |
| Theatre style | 750 |